Outdoor events
Our tropical garden is the ideal place for outdoor events: communions, magical weddings, product presentations, training courses, wine tasting sessions, anniversaries… We offer a selection of special menus to choose from, so you can put together the perfect combination for your event. Enjoy an unforgettable experience in a natural, elegant and charming surroundings.
Indoor events
Hold your meetings, conferences and presentations in our two function rooms: Acacia and Iris. Both rooms offer functional spaces with natural light and independently controlled heating, and they can be adapted to your needs to ensure that every detail is covered.
All room setups include water, paper, pens, sweets and five passes for our private car park. We also offer coffee breaks and restaurant services. If required, we can also provide the following services:
– Projector with SVGA and HDMI connections / Screen (3m)
– Speaker and Microphone
– Wi-Fi internet (50MB included)
– Flipchart-Board
– Others (consult rates and availability)
Function room bookings are made in writing according to the established cancellation terms and policy. Consult discounts and exclusive offers in the promotions section of our website.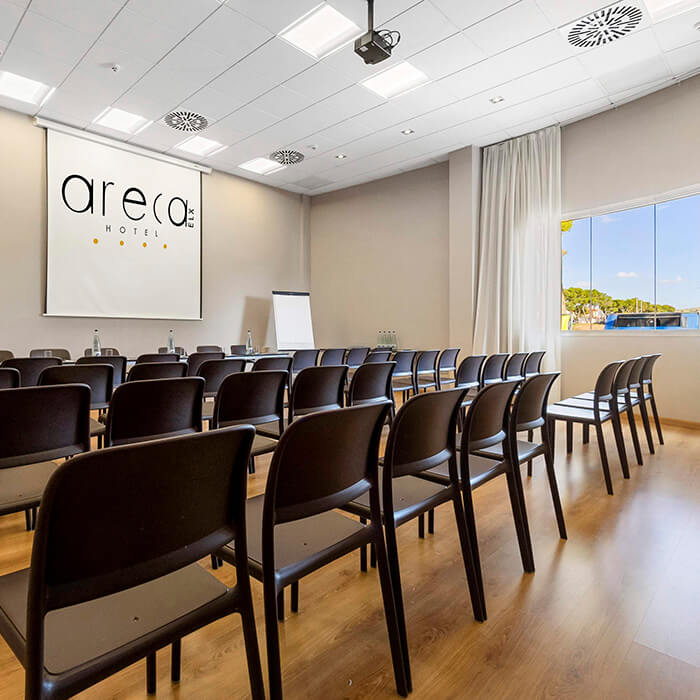 Acacia Room
Characteristics
Size: 99 m²
Dimensions: 11 m x 9 m x 4 m (high)
Arrangements and capacities
Banquet: 70 pax
Theatre: 80 pax
School: 50 pax
Imperial: 30 pax
U-shape: 30 pax
Cocktail: 90 pax
Prices
Half-day price: € 145
Full-day price: € 185
Iris Room
Characteristics
Size: 48 m²
Dimensions: 8 m x 6 m x 4 m (high)
Arrangements and capacities
Banquet: 12 pax
Theatre:15 pax
School: 15 pax
Imperial: 10 pax
U-shape: 10 pax
Cocktail: 25 pax
Prices
Half-day price: € 110
Full-day price: € 135